Have you been to a Habitat for Humanity
ReStore
? They are like thrifting to DIY-ers, a source for used/donated renovation supplies (and other good things, there is a furniture section in the back sometimes). I remember faintly going there when my parents were renovating their house, and a friend reminded me of the fun treasures you can find when she came back with a brand new (still wrapped) tub for $100. I have also heard of complete kitchens for $400, and if you are patient (so not me, I rushed to IKEA), with some paint and hardware it could make for a really cheap reno. I kept the resource at the back of my mind for some time until another friend came home with these tiles, still new in the box:
I had to check this out in person. 20 minutes later I came home with enough for a bathroom reno (soon to come). At 9 dollars a box, the tiles came out to something ridiculous like 80 cents a square foot...I liked them a lot because they were like no other tile I had seen at the store (if the picture does not show, they are a pale, grey-ish aqua-ish colour and have a wood grain). Their long rectangular shape is just begging for a herringbone pattern to me!
Aside from this purchase, I also found some of the supplies for
Holly's Play Kitchen
. Then one day Leila was talking about some house numbers she has been coveting...DWR fans know what these are all about...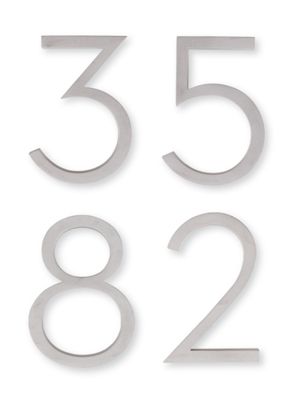 I'm sure these numbers are made of some amazing material and I am committing design blasphemy by saying this, but I was sure I saw "the look for less" at the local re-store. (By the way, I have seen these numbers in person and they are oddly tiny, I like the re-store version better)! We both came home with some of these:
What's that? 4.75 for floating numbers instead of 48 dollars a piece? So satisfying to find a good deal.
Have you used the re-store? Tell us your finds!